I have a new FO for you, today: my mother's socks, dubbed the Out Of Season Socks. They are knit of Lana Grossa Meilenweit Cotton Fantasy, which is a distinctly summery yarn, in colorway #801, which is distinctly beachy-peachy. In January? In the Midwest? It felt extremely odd to be knitting them, let me just say that, and I am hungry to get back to proper, stretchy, springy, soft and lovely wool. I am back on the Koigu fishtail lace socks, now.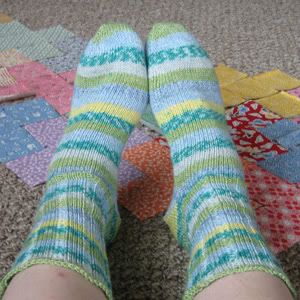 Poor Lara has not undergone much seaming since we last checked in with her. I sewed up one sleeve and when I got to the body seam, was stumped. All I have to do is look it up in Vogue Knitting, but somehow, I've had more interesting things to do. The truth is that I have Fear Of Finishing: first, I hate seaming knit garments and can't do but four inches at a time and even that gives me a pounding headache. Second, I feel so sure that she will be too small for me, all measurement aside.
Amelia Raitte (
http://autoscopia.com/amelia/
) has won an award for having a lovely blog, which she does. And she knits the most lovely things, too. When I grow up I want to be Amelia.