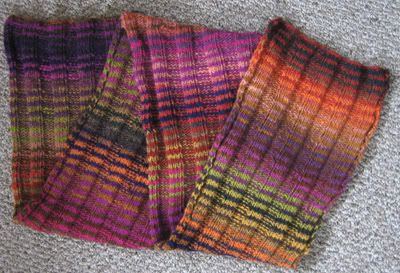 Here I present to you the Safe Asset scarf, knit with four skeins of Noro Kureyon color 138 on size 8 needles; 44 stitches across in K4P4 ribbing.
Does anyone get the joke in the name? "Safe asset" is used a pronounciation guide for "Kaffe Fassett." And the colors in the scarf are exactly the colors he uses. So there.
I am now very bored with knitting scarves, for a while. I have too many of them, they are neither interesting nor mindless knitting (the ribbing irritates me, and the back-and-forth), and I have too many other things on the needles and waiting in the wings: that pair of cotton socks for my mother, Lara, the Trinket scarf, and Koigu fishtail socks... and *then*. Then we start Knitting Vintage Socks.