It's a wrap: my clapotis is finished.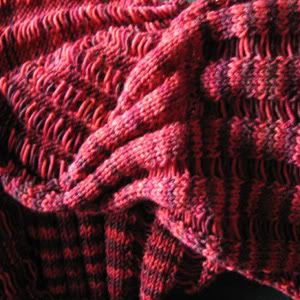 I am very happy with it. It is thick and snuggly, with the dimensions of a generous scarf. Statistics: 3 hanks of Artyarns Handpaint Stripes, knit on size 8 needles. Clapotis pattern available from knitty.com. I omitted one increase repeat and did not count the repeats in the middle, only started decreasing with hank 3 where I had stopped increasing with hank 1.
If my knitblog is the only one you read, then you might not yet know that the new issue of MagKnits is up and that it includes Grumperina's Odessa hat. Do yourself a favor and get that pattern.
Also, Sockapaloooza is on! I received my sock pal information half an hour ago. There are very few restrictions on my knitting, so I think I am going to have fun--I will likely re-knit either Amelia Raitte's Elfine Socks pattern or the Embossed Leaves pattern (I am too attached to the toe I have knit to give it away). I do like big repeats of lace for sock patterns, they make it so much easier to make progress... unlike the miserable fishtail lace, which I'd like to give up on.