Michelle Kwan is out, and so is my Flower Basket Shawl. Sorry, folks--I just don't like the pattern enough, don't like it in this yarn, don't want to be working on it right now. I might frog it or I might put it away for another time; I'm just not sure.
Does this inspire you? It doesn't inspire me.
In its place, I have chosen a
proper
Olympic sort of knitting project: one of the Norwegian mitten kits I bought from
Nordic Fiber Arts
a couple of months ago, when
Wendy
was knitting them.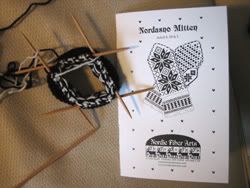 Ahhh, now isn't that much better?
Now. Several years ago, I knit a couple of pairs of mittens with stranded colorwork on them. They were very cute; I called them a success. They were at true worsted gauge, however, whereas these are being knit on US4 needles--something like a light DK weight. Also, those were knit with a squishy-gooshy acrylic yarn (forgive me. I was young, and I did not know) on size six needles. This yarn is Wool with a capital W, scratchy and stiff and not particularly sproingy. I don't remember if I managed to knit with one strand of yarn in each hand, when I did those mittens, or not. What's for darn sure is that I'm fumbling this time around. Progress is slow and I fully expect the beginning of the mittens to look much messer than the end of them. They may not be objets d'art, but they will definitely be a learning experience.