My mother kidnapped me for the third day in a row, this time for a long list errands which included, funnily enough, a trip to the yarn shop. I finally managed to think of a real project and to buy yarn for it--a baby sweater for Stephanie's as-yet-ungendered tadpole. I bought four balls of Rowan CashSoft DK in a lovely sage green; never mind the pattern is for Cashmerino Aran. It is the same sweater as my dear long-suffering Lara, which I am knitting at DK instead of worsted/aran, so I have practice with this. Anyway, it's CashSoft! It's sage green! I got to buy four balls of it! I get to knit them all up! Yaaaaay!!! Never mind the kid's going to be born in June. Babies always need to be bundled up, right? Naaah. I'll make the 6 mos. size.
Now: because I feel so guilty that I can't show you pictures of the progress on my Gryffindor sweater, or of the sock I started knitting (toe up with lifted increases. Lifted increases look much neater than half-hitch, BTW. Creates the same structure, but lifted increases are much tightier and tidier), I will search back in my other blog to find a post with lots of pictures in it. Aha! There's one: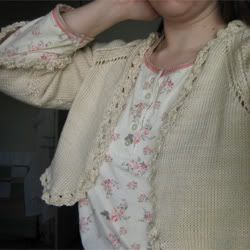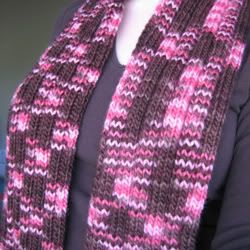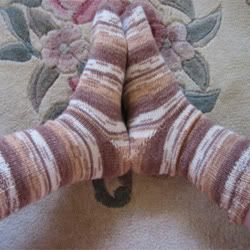 Top left: The bedsocks. Knit from Cashsoft 4-ply, color "Spring," and inspired by a Rowan pattern that had beads instead of purl stitches. Toe-up, Turkish cast-on, short-row heels. Needles US3.
Top right: The DREADFUL bed jacket. Knit from KnitPicks Shine "Cream" from the bolero pattern in summer's Vogue Knitting; my own dreadful crocheted edging, obviously. Might be marginally better worn over a short-sleeved nightgown. Needles US6.
Bottom left: The chocolate-peppermint scarf. Knit from Ejido 160 "Shell" purchased from handpaintedyarn.com. 2.5 hanks total. My own pattern. Needles US 7.
Bottom right: The Harry Potter socks, knit from Opal Rainforest "Owl." My usual toe-up pattern, Turkish cast-on, short-row heels. Needles US 1, 2.25mm.