I am having a Guacamole Day. It is my second. On such a day, I make a batch of guacamole sometime before lunch, and it eat on chips all day--and nothing else. Sometimes it's a sort of cleansing ritual, and sometimes it's just greed and I suffer for it... I think I am suffering, today.
Here is some eye candy: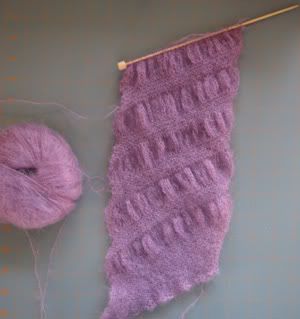 Courtesy of the weather which, after raining buckets in the morning, consented to shine just a little in the afternoon. On the left, finally a photograph of my Trinket scarf. On the right, thirty-five piles of tiny squares that I cut out this afternoon (instead of working on term papers) to use in my own Crosses quilt. Somehow, they just don't have that Kaffe Fassett flavor...