Time for a great big knitting update, don't you think? I do.
First off, the big news: I have finished the Sockapaloooza socks! Woohoo! I didn't get into this week's update, but they are definitely done.
See? It's really a pair: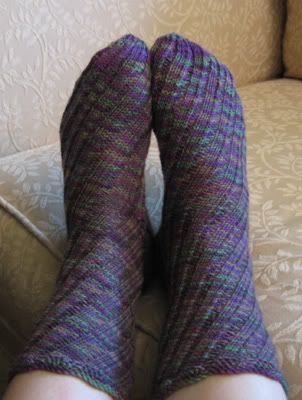 An up-close of the stitch pattern: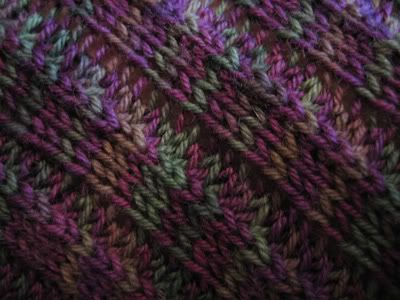 Statistics: Two skeins of Lorna's Laces Shepherd Sock, not nearly used up, possibly enough left for a pair of footies. Size US1 / 2.25mm needles. Pattern, Mermaid Socks from Cool Socks Warm Feet.
Thoughts about the pattern: The overall effect of this pattern is stunning, and it is shockingly simple to memorize and to knit; it's really next door to plain old stockinette, in terms of mindlessness. It does involve YOs, though, so the resulting sock is rather lacy and open, just something to keep in mind if you think wool socks shouldn't have holes. Also, as Jaywalker knitters discovered before me, diagonal knitting doesn't stretch very much. I made these socks 66 stitches around the leg and 60 stitches around the foot, and they are very snug on my foot and ankle. I have to be careful getting them on and off. I think they will be perfect for my sock pal's slightly smaller feet, but if I knit this pattern for myself, I will do 72 around the leg and 66 around the foot.
Thoughts about the yarn: This was my virgin experience with Lorna's Laces. It is different from other nylon-enforced sock yarn because the wool content is merino. This makes a smoother, silkier yarn without the prickly "crunch" I so love in other sock yarns. The smoothness is quite charming, though, as are the colorways (and oy, do I have a lot of them stashed), so I will definitely be happy to use Lorna's Laces again in the future, both for myself and for others.
And I have one more knitting update. I am nearing the armhole decreases on the back of Empire: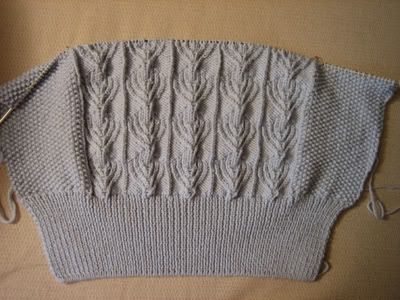 Isn't she a beaut? I just love this pattern. It has an awful lot of cabling in every single row, but one quickly understands the logic and rhythm behind it, and no longer has to watch the pattern very carefully. A quick check at the beginning of each row suffices. Also, I am Cabling Without A Cable Needle a la Wendy, which makes the whole process positively fast. I love this pattern. I feel so
smart
when I am knitting it. I am also madly in love with the seed stitch border, which is deliciously textured and cuddly and beautiful to boot; it reminds me of hobnail glassware, which I also love. I am having wistful ideas about knitting a blanket all in seed stitch... but then I come round and remember that knitting blankets can't possibly be fun.