On the needles:
Empire
The mate of a Trekking XXL sock; turning the heel now
The short-sleeved sweater from Erika Knight's "Simple Knits for Little Cherubs." I started this yesterday, because I couldn't be bothered either to fix a mistake in Empire (gosh, that's going to be dreadful) or to continue turning that heel. I am knitting it in KnitPicks Shine Sport, color Crocus. Forgive no pix--I think your imagination can handle it. Go look at the yarn here:
Shine Sport
And the sweater
. It is the lavender one, pictured twice in the top row.
It is knitting up at slightly larger than gauge, unfortunately, so though I cast on for the medium size I think I'd better follow the vertical measurements for the large size. I might have to order another ball of the yarn, because I'm only six inches into the back and the first is already wilting; I only have four. Bummer.
Put in an order with KnitPicks this morning. Four balls each of all three colors in the red/pink part of Palette, to make more of these little sweaters. Palette is supposed to be a true fingering-weight yarn, so I am hoping that it will knit to gauge and four will be enough. If not, I have to put my faith in the consistency of dyelot-to-dyelot in the modern world. I am thinking that I will knit the red into a sweater by itself, but I will tip the pinks with each other--just the cast-on and cast-off rows. I will almost certainly embroider a strawberry onto one of the sweaters. Here is the link to Palette, so you can see for yourself:
Palette
I am very much looking forward to finding darling little buttons, for the back neck closures. All in all, knitting for little children is the only thing I enjoy more than knitting for myself. It goes so fast.
I am knitting this sweater, I assume, for my own daughter--should I ever have one. Last night I had a big-time freak out about life in general and wondered if I shouldn't rip it all out, because what I'm knitting into this sweater (and feelings get caught up in knitting and in cooking, I do believe that) is uncertainty, rather than contentment. This morning though, with my head cleared out, I decided that knitting a sweater for a daughter
now
is not different from knitting one when I am married, because children are still not certain; not different from knitting one while pregnant, because one doesn't know that everything will go well; not even different from knitting one after the daughter is born, because who knows if she will refuse to wear it (what little girl in her right mind would refuse a pretty sweater knit in that pretty color, though...?) So, I am knitting on.
Here is a picture I forgot to post. The bunny hat I knit on commission: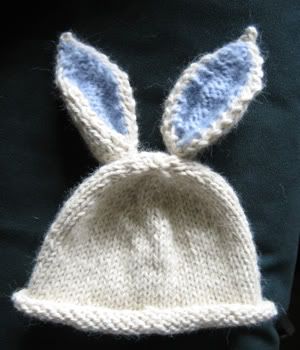 In response to comments, thank you! Positive reinforcement is a sweet, sweet thing.